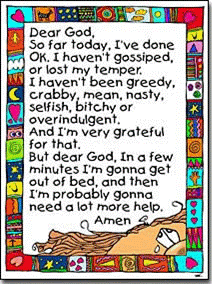 This cartoon isn't exactly true since I'm posting around midnight the night before. But I have a feeling I'm not going to want to get out of bed. Why?
I'm catching a cold (thank you, Don)


last night's youth group didn't go well and that has me a little down. Don and I need to work some things out on that front.


I have to help Jake dress up in a toga first thing in the morning. Why? It's spirit week and today is toga day. I am so glad I only have two kids and I don't have to do this again.


and the biggest reason... I have a dentist appointment this morning. Ugh!
Can't I just stay in bed?
***************
link of the day:
http://www.glassgiant.com/maze/