hope everyone has had a nice saturday. it's been a lazy one around here. so i've been able to participate in one of my favorite pastimes... surfing the web and reading blogs. boy, the cyber world is sure a big place.
one of the reasons i enjoy perusing the internet so much is the things i come across. things i never knew or would never think of knowing. for instance, i came across two very unique types of shoes today and the third pair about a year ago.
these are
vibram's fivefinger shoe
. i looked a little bit further into this interesting design and found that most people had high praise for the shoe. here's a quote from one user:
"fivefingers enhances your natural barefoot walking motion as they provide contact to the ground, gently spreads your toes to strengthen foot muscles, increase range of motion, and improves general foot health. they also stimulate muscles in your feet and
lower legs for greater balance, agility and strength and also helps straighten your spine, improve your posture, which may reduce or prevent lower back pain."
the more i read about these shoes, the more i wanted to buy them just to try them out. if i do, i'll definitely blog about them.
the second pair of shoes i came across was actually just a picture. at first, i just chuckled and passed it by. but after deciding i was going to include them in this post, i looked into it a little bit more. and lo and behold, it ends up being a fraud. no one really knows if it's a hoax or a work of art. they are pretty neat to look at.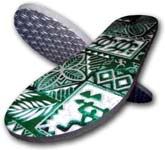 and then the third pair of shoes was something i came across last summer. they're called
topless sandals
. and as you can tell form the picture, they are indeed... topless.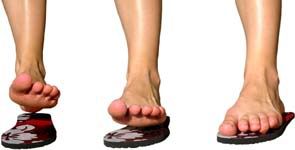 i wasn't sure these were real when i first came across the web site. but after doing my research and the fact that the web site is still there, i conclude that they are legitimate. they even have an instructional video now. i'm sure that helps explain how these strange sandals work.
i just thought all of these were pretty interesting and would pass on my cyber findings to all of you. just in case you were looking for a new pair of shoes ;D
***************
link of the day:
http://www.virtualparks.org/main.html